SERVICES OFFERED
START SAVING YOUR MONEY
Green Motors Inc.
Green Motors, Inc. is a company devoted to helping our nation become a cleaner place to live. It was started by Todd Barlow in July of 2006. When he saw how much pollution we have in the United States and the rising cost of gas he knew that something needed to be done. That's when the idea came to him. If we reduce how much gasoline we use, it will cut down on the amount of pollution that we have. "Many people have been waiting for something like this," he said "and nobody seemed to be doing anything about it." Now with the fast rising cost of fuel, it is impormtant for everyone to start thinking about curbing our dependancy on gasoline for transportation.
Green Motors Inc. was incorporated on September 24, 2007 in Arizona. We opperate out of a 4 bay commercial automotive facility in north Phoenix. We are Bonded, Insured and are Licensed as a used car dealer in ther state of Arizona.
About Us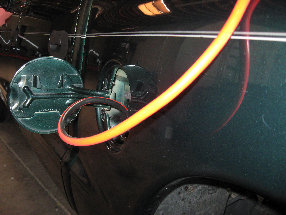 We Convert vehicles to electric power for sale to the general public.

We will convert a specific vehicle that a customer requests, either a vehicle that they have or one we can find.

We service and maintain not only vehicles we convert but all types of electric vehicles, from do-it-yourself conversions, to production vehicles.

We refurbish electric vehicles, to be sold. Also, refurbish vehicles at cuctomers request.

We offer support and services for the do-it-yourself converter from words of encouragement, to metal fabrications, to battery cables, to space for converting, and everything in between.

We offer sales of parts needed to convert vehicles to electric power.